Work with Wilson-Taylor Associates to engage key audiences through stories and statistics. We collaborate with companies and associations on:
Original research projects that make your organization the go-to source for data and insights.
Content strategy, from developing personas to writing content that real persons want to read.
White papers, articles and reports that build and expand your expertise.
Communication and media training so that you can confidently navigate media. interviews and win media coverage based on your expertise and experience.
And successful media outreach so that your message reaches the right audiences.
Relevant career trends and tools straight to your inbox! Please join The Career Lattice via email for updates on resources and courses.   Click here.
Career lattices are the fastest, most reliable way to grow your career and for companies to grow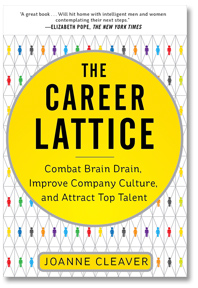 the talent they need to achieve tomorrow's goals. I established the trend with my book The Career Lattice  (McGraw Professional, 2012), and have been evolving training for individuals and companies ever since. Now, through online courses, I equip individuals and companies to make the most of this powerful strategy. Come on over to The Career Lattice to gain access to resources that can propel your career to the next level, including strategies for converting your career experience to sustainable, profitable self-employment.