Career lattices are the sustainable, flexible, way to keep growing your skills and income, lifelong. And, employers use career lattices to make sure they have the talent they will need to achieve tomorrow's goals. Sign up here for the latest lattice tips, tools and training opportunities delivered conveniently to your inbox. Please visit www.thecareerlattice.com for a complete suite of career courses, workshops, and tools. See you there!
Sign up here...
Yes, please send me a free chapter from The Career Lattice and keep me up to date on lattice trends and training.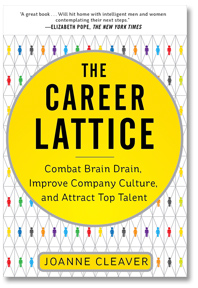 For questions of general interest about career lattices, career trends and all Career Lattice courses, please join the discussion at the Career Lattice Facebook page.
If you've joined the Career Lattice Master Community, please join the referral and professional development private Facebook group.
The worst career advice you can give is "follow in my footsteps," and the worst career advice you can get is to follow in someone's footsteps. It used to be that footsteps provided a solid step on the up-or-out career ladder. Now, the ladder is broken and footsteps are in sand…on the beach…and it's always high tide.
Everything's changing too fast, and the stakes are too high, to stick with linear, "do as I did"  career paths. Nobody's great new opportunity is somebody else's old job.  Individuals want fresh challenges that blend what they already know and are good at with fresh challenges. Fortunately, that's what employers need, too: people skilled at taking lateral moves to gain skills, experience and relationships that will propel them to greater success in their next step up.
Keep reading for Career Lattice tools for both individuals and employers. To keep up with the latest career lattice trends, tools, ideas and learning opportunities, sign up for the The Career Lattice newsletter.
Career lattices are the proven way for employers to win, develop, keep and promote diverse talent and tomorrow's leaders. Use this short deck and handout to see how the essential lattice can help your workplace achieve its goals.
Career lattices are the flexible, sustainable strategy for individual career growth, including transitioning to and through retirement and through life stages, such as parenting.
Build your lattice strategy at the "Staff to Self-Employment" workshop, available both online and on-site.

Set yourself up for entrepreneurial success while you are still on staff! This innovative workshop breaks down the transition from staff to business owner/self-employment into five manageable steps that any staffer or new retiree can use immediately.
Here's what the Meg Herman, Director of Entrepreneurial Services for Chicago's Women's Business Development Center, has to say about Lattice from Staff to Entrepreneurship: "Joanne Cleaver is a superb facilitator of learning conversations for people and organizations who are going through professional and organizational change. She has relevant and timely research at the ready to add value to those latticing their way to a new future in their industry/profession. This workshop fills a crucial gap to bridge to success for people considering entrepreneuring in their future."
Lattice from Staff to Entrepreneurship can be customized for near and new retirees, working parents, and millennials. Contact Joanne Cleaver today to learn more.
Published in spring 2012 by McGraw Professional, The Career Lattice draws on the extensive expertise of the Council for Adult and Experiential Learning. The Career Lattice is also based on MOVE Project research conducted by Wilson-Taylor As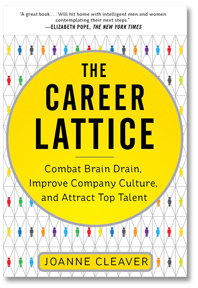 sociates.
The Career Lattice author and speaker Joanne Cleaver is her own best case study. Here's her own career lattice.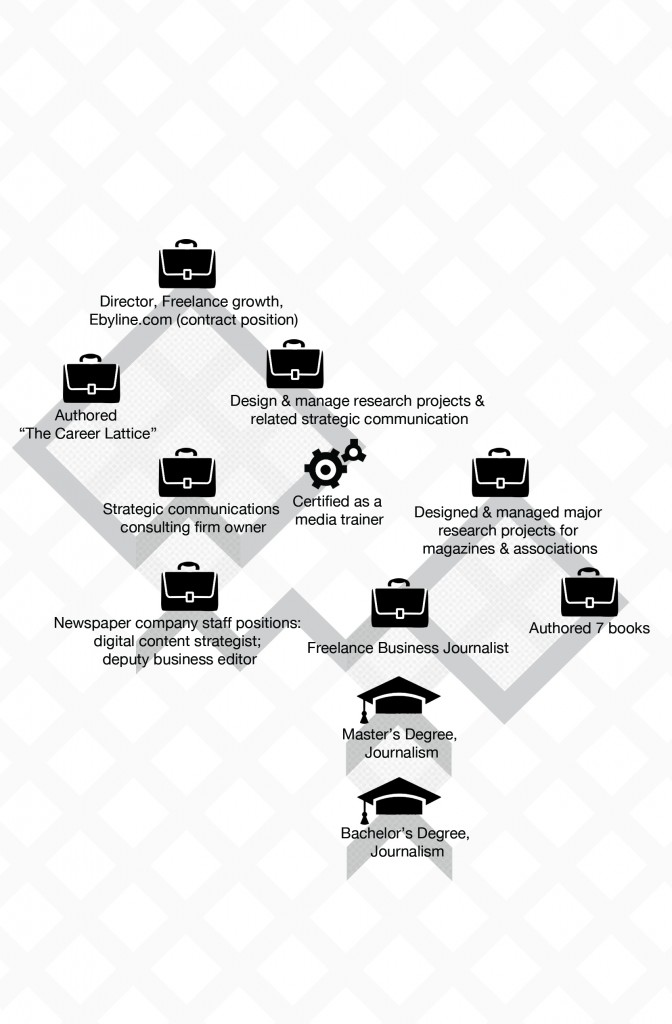 The Career Lattice has good news for economic development officials, too! Lateral moves help bridge the skills gap, ensuring that people have jobs and that jobs have people.
Whether you are in your first job, juggling work and family, segueing to retirement, managing a team, developing talent, or running a big organization, you'll find insights and useful information in The Career Lattice.